Brake Linings error and stereo work
Had a bit of trouble with the image database which should be resolved again now. Let me know if any images are gone or not working.
Spent this weekend tinkering with the eletronics. Fixed the brake linings error message and wired up power, ground and signal cables for the new headunit that hopefully arrives soon.
Since I bought a new nice headunit which will do until I get more time to build my CarPc system, I decided to use the good weather and get some wiring done. Wired up proper power and ground to the center console, along with 7 channel audio wiring. All neatly hidden.
Also hid away the coupe heater wiring so everything is out of sight. Moved the 220V supply from my inverter to be easily accessible and hidden in the center armrest. The amplifer also got properly wired up with front speakers and rear speakers plus remote power control.
For those curious, 5m (15 ft) long audiocables is perfect for the iL if you have the amplifer in the spare room in the trunk behind the rear seats.
My temporary stereo is my SonyEricsson W300i walkman phone. The headunit should arrive in a couple of weeks.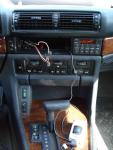 "Hot-wired" the amplifier power control and made an interface from the phone to the amplifier wiring which is hidden. Quite hot here this weekend and almost got a sunburn (note the temp reading in celsius).
I got fed up with the BRAKE LININGS error so I decided it was time to figure out what was wrong with it. During the process of troubleshooting the wiring I discovered that one pin was broken off from the X14 connector underneat the left side dashboard.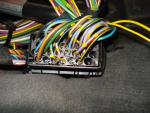 Note that beside from the broken off wire #26, I cut off the #27 wire from the brake linings circuit in order to troubleshoot the circuit.
Since I swap tires twice a year (summer / winter) I dont really need the brake lining warning, and so I decided to just short the circuit behind the instrument cluster. Below you can see the X16 connector with the pins indicated with a black marker. The wires are the two yellow ones. Note that this may be different for different years of vehicles, and that the US wiring diagrams are not correct about this.
This eliminated the error at once. No need to leave the ignition on for 60 seconds or wait 2-3 days. It works instantly.