The E32 (and E34) have two drain pipes that connects from the heater register inside the car to outlets under the car near the exhaust.
These might end up clogged and the result is usually moist/damp on the windscreen since the moisture don't have anywhere to drain out. To check and fix this, remove the center console side panels up under the dashboard. These are the two that's covered with cloth the same color and fabric as the floor mats.
This will expose the sides of the heater register and you'll see a rubber mounting with a hose that connects to the floor and into the heater register at two different places.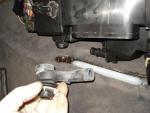 Remove the plastic duct that connects the heater register to the floor (wide black duct which is removed in the above picture).
Note that there might be moisture inside this rubber unit so please take care not to spill any on the floor mats.
To remove the rubber just push the long end out of the heater register, then lift up the rubber from the floor mat by the white ring and then pull it down and off the heater register.
Clean the outlets from the heater register. Use a flexible rubber tube and feed it down the floor drain pipe like show below.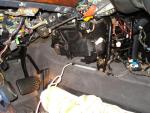 Note! It might take a couple of feet of rubber tubing to get all the way through. You'll see it come out under the car.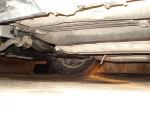 Flushing with soapwater might also be a good thing to remove any debris and odor.
Assembling the rubber back into the register can be tricky. I found it easiest to try and mate up the upper part of the register first by twisting the rubber into place until it fit. Then turning it so that I could attach the smaller tubing to the heater register outlet.